What is Freshwater Pearl?
Freshwater pearls are created by freshwater mussels in lakes, rivers and ponds. Today, most freshwater pearls on the market come from rivers and lakes in China, although USA and Japan have a small fraction of the market. A freshwater mussel produce up to 50 pearls at a time (compared to the two to five pearls that saltwater oysters can contain).
All freshwater pearls in the market you can see have been cultured, meaning they were grown in pearl farms using science and technology rather than in nature by accident. The current scientific cultivation technique involves trained technicians implanting stimulants in the mussels to stimulate pearl formation. Unlike the nuclei commonly used in Akoya and other saltwater pearl cultures, the nuclei of freshwater pearls are usually tissue from donated mussels.
The fresh water pearls cultured by the above cultivation techniques do not contain nacreous nuclei, but are entirely composed of nacreous layers. The advantage of a thick layer of nacre is that pearls are more durable and beautiful.
Freshwater Pearl Colors and Overtones
The main colors of freshwater pearls include white, cream and gray, as well as pastel hues such as canary yellow, lavender, pink and orange. High quality freshwater pearls have pink, green, and blue accents, while low quality gemstone pearls do not have any desirable accents. White, cream, mauve and black are the most popular colors for freshwater pearls. However, black freshwater pearls are artificially dyed. Only Tahitian pearls are naturally charcoal gray to black.

Freshwater Pearl Shapes
Although the shape of pearls is typically spherical, only 5% of pearls are perfectly round. The rest of the pearls are nearly round, button-shaped, semi-baroque and baroque. In the past, only round pearls were considered worthy of inclusion in jewelry. But with the development of art of The Times, more and more people have noticed the unique beauty of irregular shaped pearls.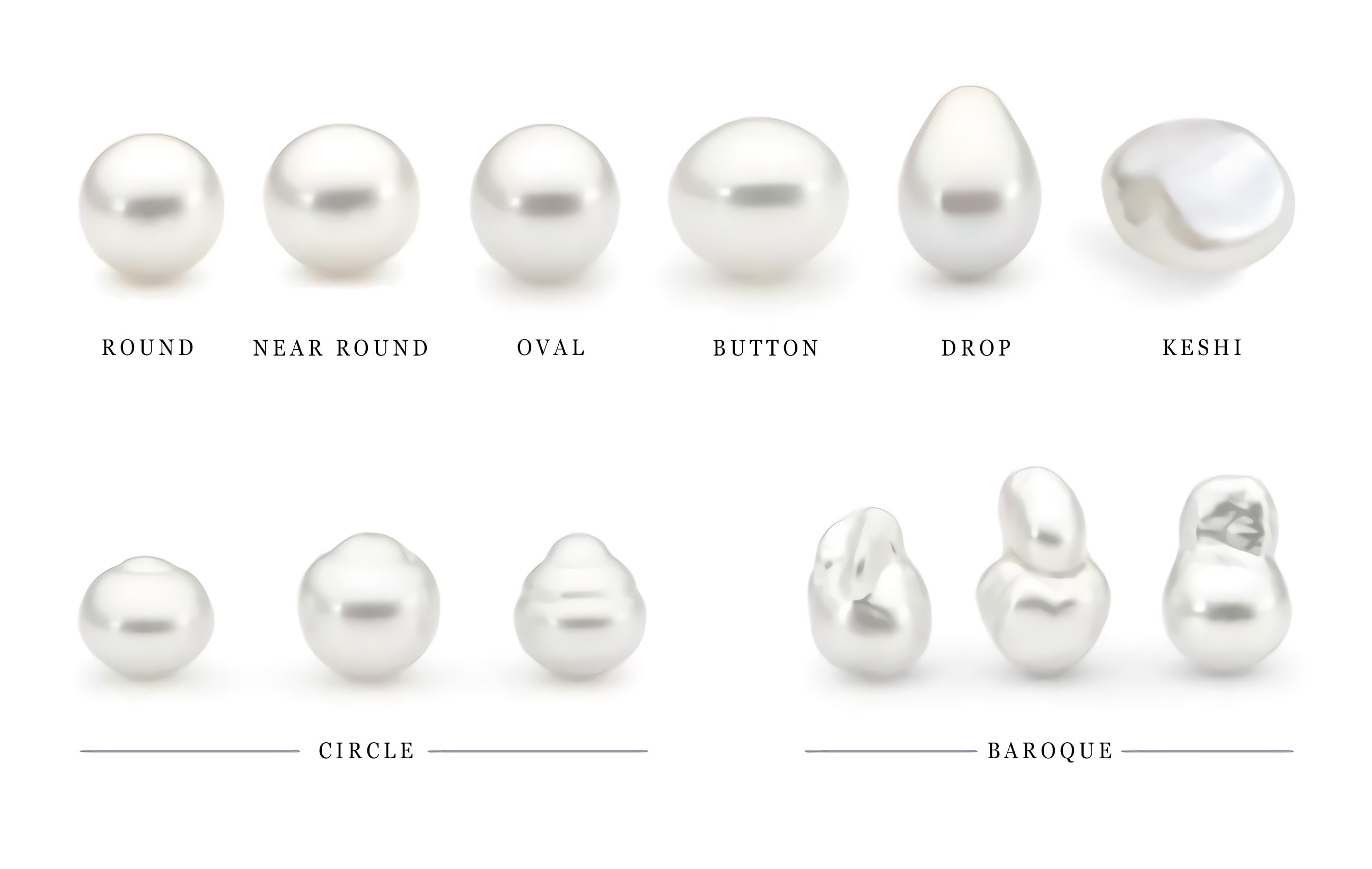 Freshwater Pearl Sizes
The size of a freshwater pearl is determined by the growing season of the pearl. Freshwater pearls generally range in size from 2.0 mm to 15.0 mm, with more than 10.0 mm very rare.
Freshwater Pearl Luster
Luster is an crucial consideration when buying pearls. The luster of a pearl is proportional to its value. In general, Akoya and South Sea pearls (saltwater pearls) have a better luster than freshwater pearls. But there are exceptions, and it depends on each pearl.
Freshwater Pearls Value
Freshwater pearls are the most affordable and most abundant pearl variety on the market. While they look similar to Akoya pearls, freshwater pearls can be up to 80% less expensive than an Akoya.
In addition - Where do they come from?
Freshwater pearls are produced by Hyriopsis cumingi (triangle shell) and Hyriopsis schlegeli (Biwa shell) commercially in China, and other bivalve mussels that live in lakes, riverbeds and creek bottoms in Japan (Biwa pearls and Lake Kasumigaura pearls), as well the United States (Mississippi River Basin). Although there are a number of freshwater pearl cultivation areas in the world, China's pearl cultivation and sales occupy a dominant position in the global freshwater pearl market.
In freshwater pearl culture, each mussel is expertly implanted with between 24 and 32 tiny encapsulated tissues, a process called nucleation. When the tissue is implanted, it forms a sac, and the cells begin to secrete nacre, a calcium carbonate compound called pearl. Over the course of two to seven years, the mussel deposits layer upon layer of nacre around the gem. In general, there are more than two dozen pearls inside each shell.
After harvest, millions of pearls are sorted carefully and matched for size, shape, color, and quality. Once the sorting is complete, loose pearls are available for sale individually and strands of matched pearls are sold on temporary strings known as "hanks".