Difference Among Akoya Pearl vs Freshwater AK Pearl vs Freshwater Pearl
What is Pearl?
Pearl is an ancient organic gem, mainly produced in Pearl shellfish and Pearl mother clams. In a broad sense, pearls can be considered as hard lumps with calcium carbonate as the main component secreted by animals to protect themselves. The ideal pearl is perfectly round and smooth, it also has many different shapes, such as circles, baroque pearls. Depending on the environment and the different features of Pearls, they are divided into different types of pearls, like Akoya Pearls, Freshwater pearls, Tahitian Pearls, South Sea Pearls, Edison Pearls, and more.
However, with the high-technology development and the environmental improvement, the quality of Freshwater pearls are getting much better, especially the new type of Freshwater pearl called Freshwater AK pearl, though it grows in freshwater lakes, ponds, the quality of Freshwater AK is almost as the same as Akoya Pearl no matter compare their luster, shape, color, and matching. And the price of Freshwater AK pearl is more affordable as it's easy to control the freshwater pearl grow environment than in saltwater.
Eusharon is a professional freshwater pearl wholesaler who know pearl information and industry in-depth.
Here we have listed the differences between Freshwater AK Pearls and Akoya Pearls.
Growing Environment of Freshwater AK Pearls vs Akoya Pearls
Freshwater AK Pearl
Most of freshwater pearls in the market are "non-nucleated" cultured pearls from China. By using the technology that implants stimulants in the freshwater mussels to stimulate pearl information, freshwater pearls now can be cultivated in the lakes, rivers, and ponds very well. And the quality of freshwater pearls is getting better and better, it depends on luster, shape, colors, etc. For the most popular freshwater pearls, you may always find high-quality Edison Pearls and Freshwater AK Pearls. Unlike the normal freshwater cultured pearls, Freshwater AK pearls are bead-nucleated culture pearl, which is the same as Akoya pearl. And the big difference between freshwater pearl and Akoya pearl is that the former one is cultivated in freshwater mussels and the other one is cultivated in saltwater oysters.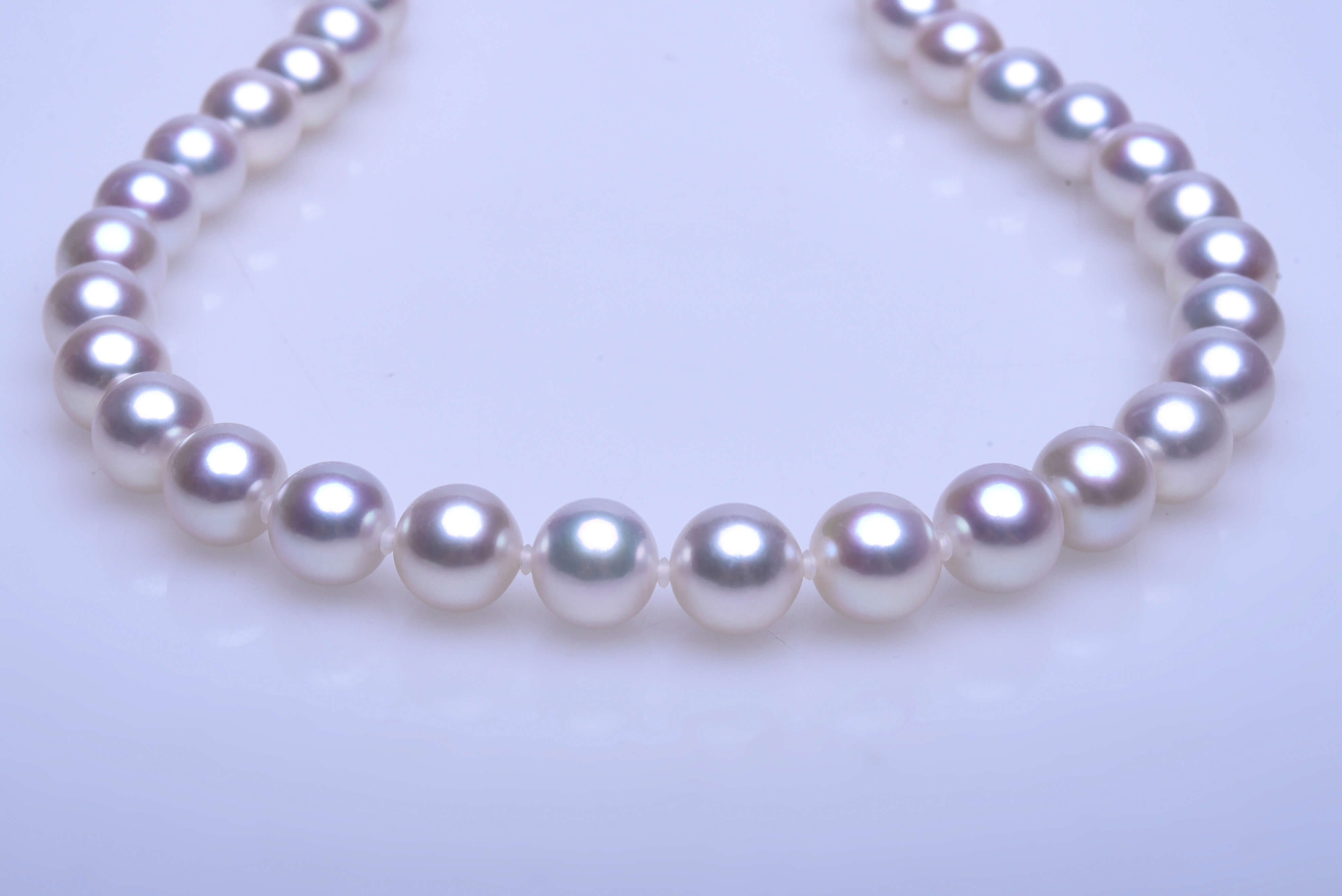 Akoya Pearl
Akoya pearl is a bead-nucleated cultured pearl cultivated from Akoya oysters that growing in the saltwater. Most of Akoya pearls are from Japan. With typical Akoya oysters, it takes about 10-18 months for the cultured Akoya pearl size to be large enough for harvesting. During this time, living conditions are carefully monitored by pearl farmers, who adjust water, food, and nutrients accordingly.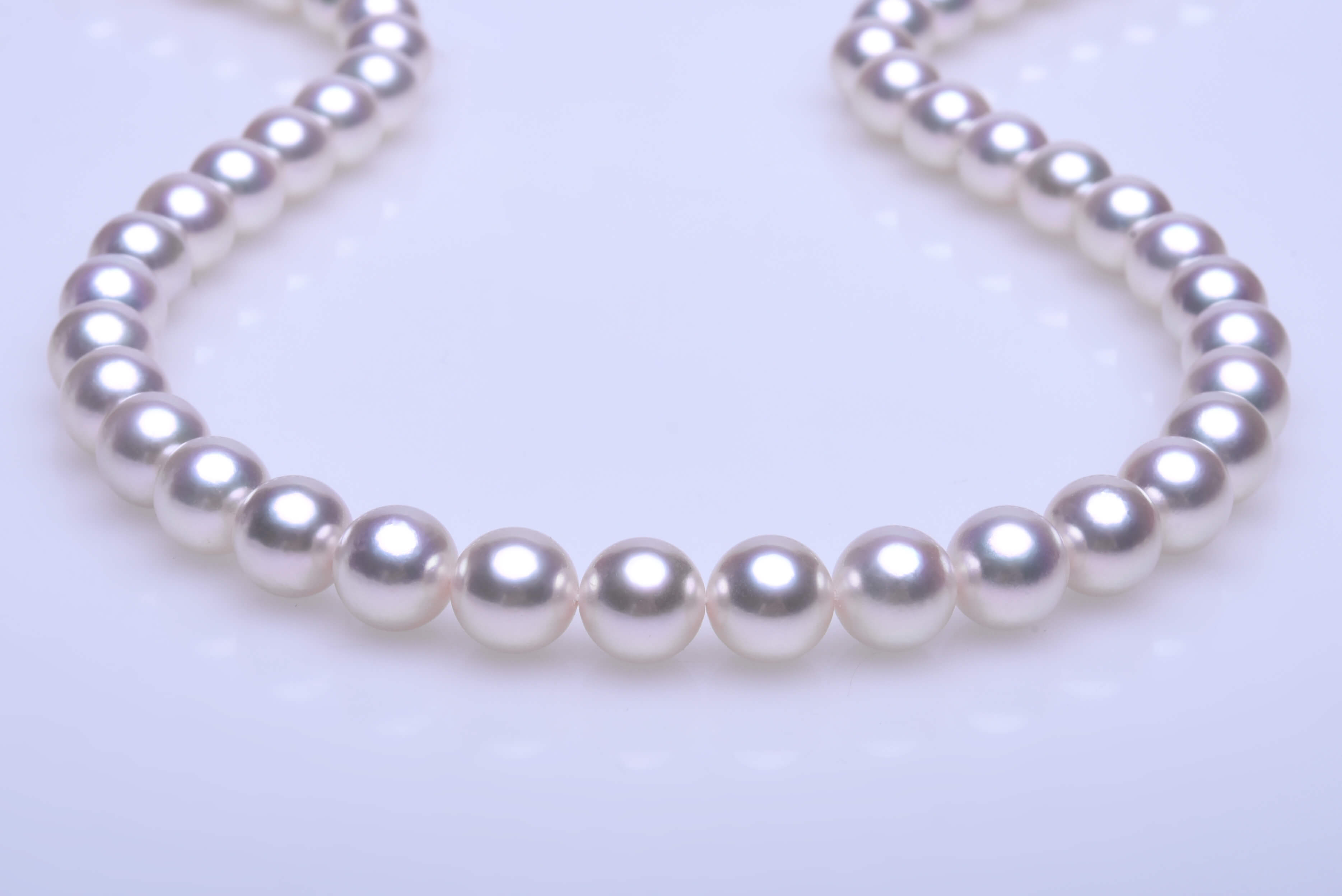 Quality of Freshwater Pearls vs Freshwater AK Pearls vs Akoya Pearls
Freshwater Pearl
Normally, it takes around 3 years to cultivate freshwater pearls, some even take around 5 years, of course, the quality of pearls will be better with a longer time to cultivate. One freshwater pearl mussel will cultivate over 25 pearls. However, the normal freshwater pearls are tissue-nucleated cultured pearls, though freshwater pearls have big output, the proportion of high-quality pearls is small, especially for the round pearl, it's very rare, and the luster is normal.
Freshwater AK Pearl
Freshwater AK Pearl normally takes around 1-2 years to cultivate. A freshwater AK pearl clam can cultivate about 8-12 pearls and production has begun to increase in recent years. With technology continues to improve, their quality is comparable to top Japanese Akoya pearls.
Akoya Pearl
Akoya Pearls are always considered gorgeous and high-quality cultured pearls. This bead-nucleated cultured pearl was first produced by the Japanese. To guarantee the high quality of Akoya Pearl, one Akoya oyster only cultivate 1-2 Akoya pearl, it grows in the ocean up to about 10-14 months to allow sufficient time for the pearl to form with wonderful luster. The output and quality of Akoya pearls are strictly controlled by the Japanese every year, which is why the price has remained high for so long time.
Let's Check 6 Details of Akoya Pearls and Freshwater AK Pearls!
Akoya Pearl
---Luster
Akoya pearl has excellent "Mirror-Like" luster, it also has a nickname - "small lamp". When you see the high-quality Akoya pearl, you'll notice that its luster is very strong and it has a high rate of reflection. But for low-quality Akoya pearl, the luster is not very beautiful.
---Structure
The nucleus of Akoya pearl is very large and the nacre is very thin(about 0.3-0.6mm). So it should be worn carefully to reduce abrasion.
---Shape
Akoya Pearl is also famous for its round shape. For pearls, round pearls are typically more valuable than pearls of other shapes since it's hard to cultivate the round shape pearls.
---Color
The main color of Akoya pearls are white, also have natural silver-grey and gold. When you see high-quality Akoya pearls in different angles, it comes in various shades of white, pink, green and blue to green overtone.
---Surface Quality
There is no perfect pearl in the world. Even though the best quality of Akoya pearl, there are still some blemishes and wrinkles on the surface. If the Akoya pearls can keep 95% clean on the surface, it's considered high-quality Akoya Pearl.
---Size
Normally the size of Akoya pearl is around 3mm-10mm, it's very rare to find the 10mm Akoya pearl. The bigger size of Akoya Pearl, the more you need to pay. Actually, according to the analysis, it shows that most women prefer small size of pearls, especially for young generations.
Freshwater AK Pearl
---Luster
Freshwater AK Pearl has only been produced in over 3 years, but this type of pearl is getting incredibly popular. The most important reason is its luster. Luster is a significant factor to recognize the value and grade of pearl, the luster of both of them are incredibly strong, it's hard to find the difference.
---Structure
The nucleus of Freshwater AK pearl is small and the nacre is very thick (more than 2mm). The advantage of a thick layer of nacre is that pearls are more durable and beautiful.
---Shape
The shape of freshwater AK pearl is round, thanks to the freshwater grow environment, it's easy to control the water. For the near round or oval freshwater AK pearl, even with a good gloss, the value is not as high as a perfect round.
---Color
Almost the same as Freshwater Pearl, the color of freshwater AK pearls are white, Pink, Lavender. Aurora Luster Freshwater AK Pearls overtone is generally pink, green, etc.
---Surface Quality
The surface of Freshwater AK Pearl is better than Akoya pearl, there is no wrinkle on the surface and the whole freshwater AK pearl looks very smooth.
---Size
The main size of freshwater AK pearls is between 3-10mm, and the selling range is similar to Akoya pearls. In recent years, under the same quality, the Chinese have become more inclined to AK pearls.
As Eusharon who has been selling freshwater pearls for many years, we sincerely hope that with the development of freshwater pearls, AK pearls will be as well-known as Akoya pearls in the world.
Data verity from GIA and Wikipedia