How to tell if pearls are real?
Are my Pearl real?
How to Tell If Your Pearls Real or Fake.
Monica is an office lady. She bought a pearl necklace on the side of the road for $40. When she got home, she couldn't wait to ask her roommate Lucia who works at the jewelry company. Lucia told Monica only by watching and touching, "Oh, my dear, I'm sorry to tell you, I mean, it's fake."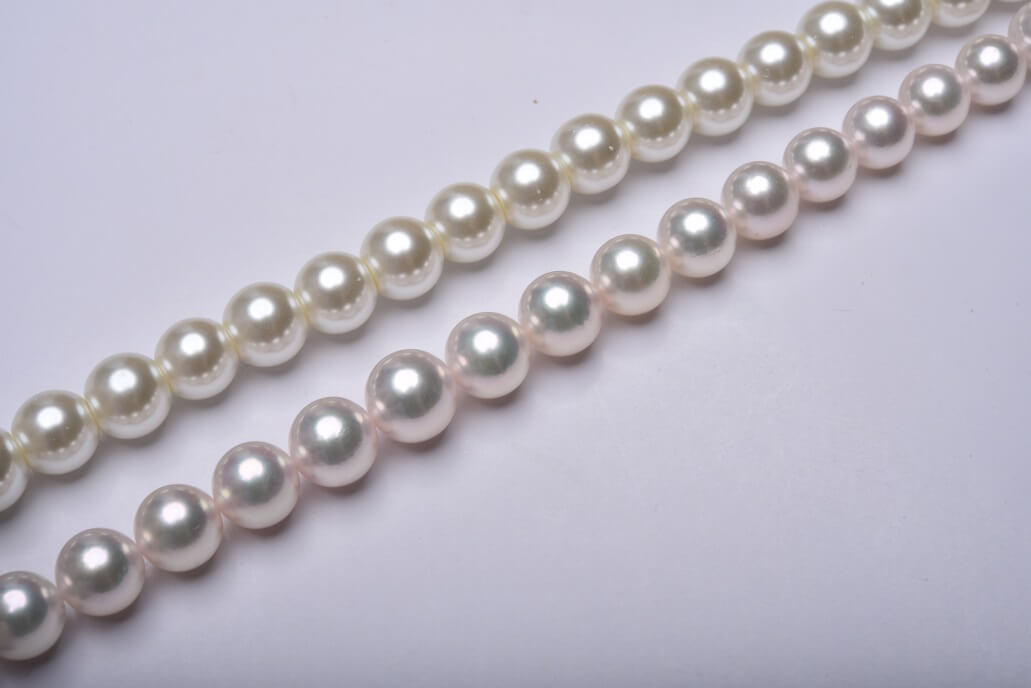 (Can you tell which strand is true?)
Jewelers will admit that pearls have never been as popular as they are now. The development of culture technology has made pearls become the design darling of the fashion industry from the original high-priced gems. Of course, with the increase in demand, artificial pearls, which can be called fake pearls, are also circulating in the market. Generally speaking, the merchant will inform or mark clearly the authenticity of the pearls used, but it is not ruled out that the unruly person will sell the fake pearls to you at the real pearl price. For experienced jewelers, like Lucia mentioned in the previous article, it is easy to identify the authenticity of pearls, but for novice pearls, this is not an easy task.
There are mainly 3 types of fake pearls currently in circulation on the market: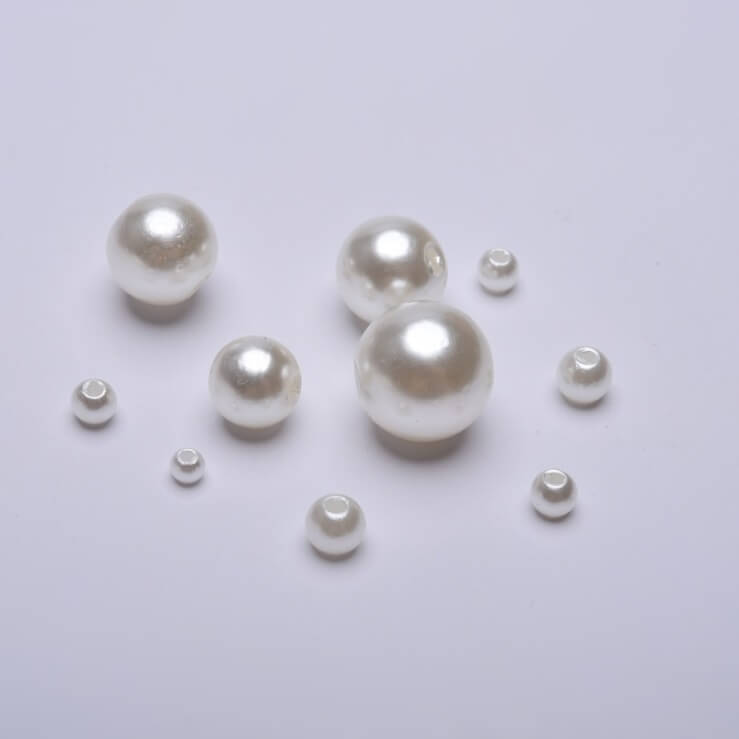 ABS, pearl made of ABS resin, is also commonly called plastic pearl.
Glass Pearl, A round sphere made of a glass core and colored with pearl coating.
Shell pearl, which is the closest material to pearl. It is made by sanding the pearl shell or bonding the pearl powder and covering it with a coating.
As a professional jeweler, Eusharon has always used the GIA pearl description system as the standard. The GIA Pearl Description System is a universal and objective system that helps people grade pearls. It consists of 7 value factors: size, shape, color, luster, surface, nacre thickness, and matching. This time, we also start from the 7 factors of pearls to explain the difference between true and false pearls.
Size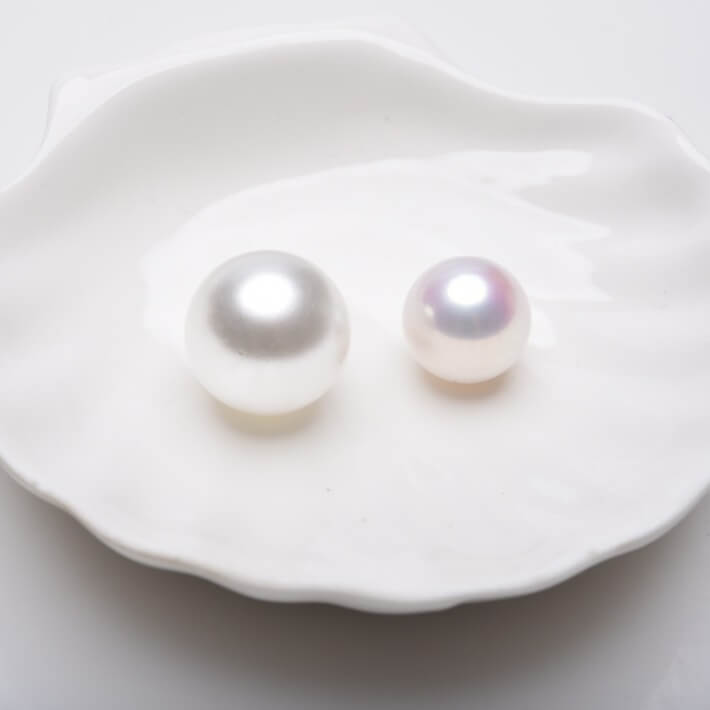 (20mm fake pearl on the left, 15.8mm real pearl on the right)
Our common pearl size range is generally 2-18mm. Although there are some larger pearls, they are very rare.
But the large size of fake pearls is more common, usually used on the strap decorations of ladies' handbags, so when you see a lot of huge pearls, you need to pay attention!
Since pearls grow naturally, the size will not be exactly the same. If you look closely at real pearl necklaces, you will find that the pearl size varies within a range, such as 10-10.5mm, while fake pearl necklaces are produced uniformly, so they are marked The dimensions are basically uniform integers (8mm, 9mm, 10mm etc).
Shape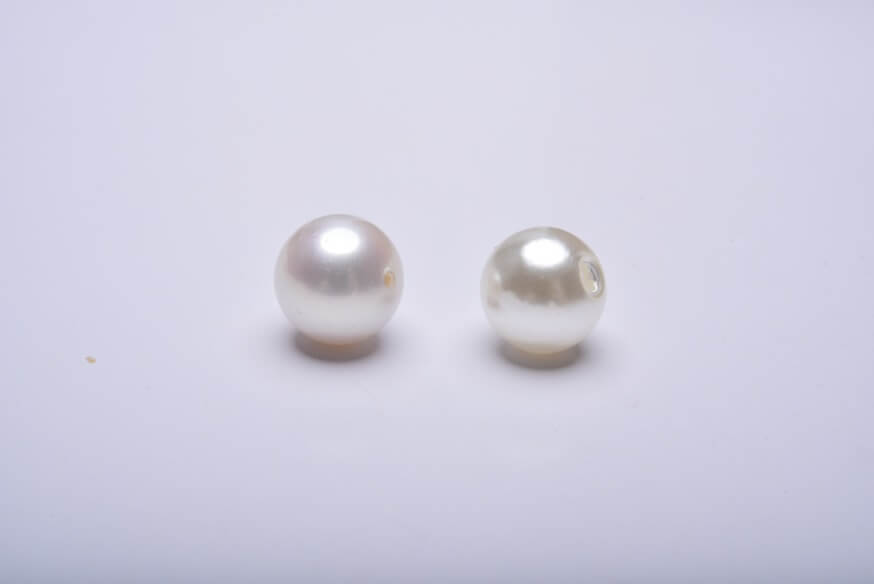 (Real vs Fake)
There are various shapes of real pearls, and there are some differences between the same shape pearls of the same style.
There has never been a perfect circle, and the same is true for pearls. Real pearls are different. For the most common pearl necklaces, a pearl necklace called a perfect circle cannot guarantee the absolute roundness of each pearl, while fake pearls can be made consistent in the roundness due to the mold. .
At present, the more common fake pearls are basically round, and there are a few fake pearls that imitate Baroque or other shapes. However, due to the production of mold, the shape is relatively uniform and there is no difference.
Color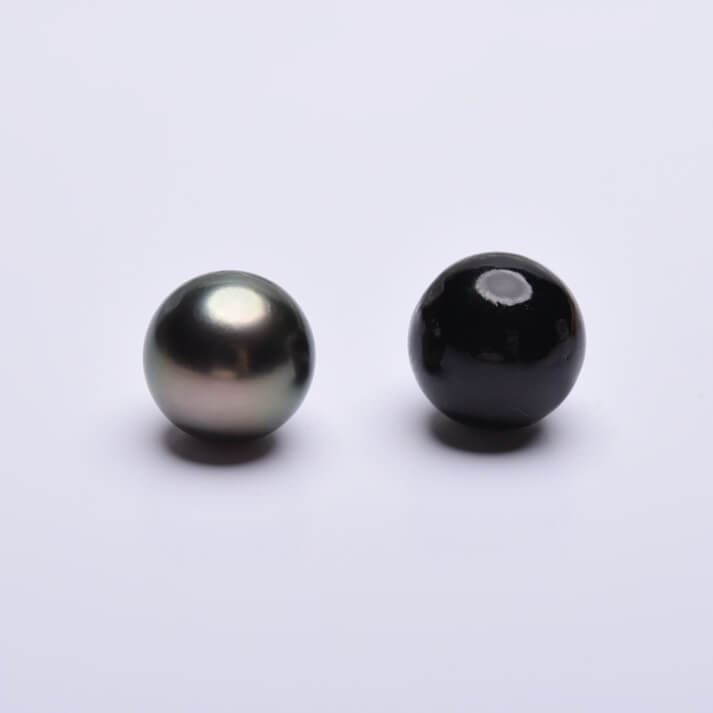 (Real Tahitian Pearl vs Fake ABS Black Pearl)
In terms of white, there is little difference in body color between the two, but fake pearls will have a sense of contradiction. This is mainly for each pearl, even if the color is the same, the depth of its color is not exactly the same, which is incomparable to fake pearls. Natural pearls do not have red, green, or blue in their bodies. Usually these colors are dyed pearls or made up of fake pearls of other materials.
The color of the pearl depends on the mother shell, and the color of the fake pearl depends on the mood of the producer :).
Luster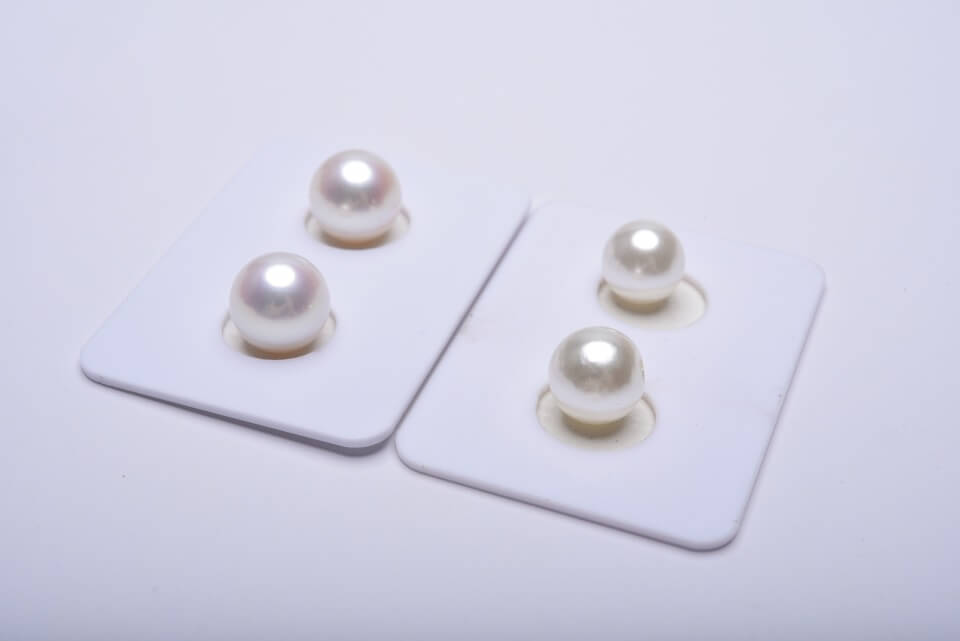 (Real pearl on the left you can see green overtone ,
the fake pearl on the right has nothing.)
Luster is the soul of pearls and it is fascinating. Due to the complex interaction between nacre and light, some real pearls have halos. This kind of halo is a kind of looming translucent halo. Common ones are pink, green, blue, etc. The luster of the rotating pearl is different at different angles, and they make the pearl look more moving.
Although fake pearls have luster, it is just an imitation of the coating product, uniform and monotonous, and it is extremely dull, lacking the natural agility of real pearls.
Surface
On the surface of a real pearl, even if it is a flawless pearl, if you look carefully or through a magnifying glass, you will see tiny growth lines. This is the same as the texture of our skin, and it is difficult for fake pearls to imitate this texture. In addition to the grain, natural pearls will have more or less spots and blemishes. The surface of fake pearls looks smoother and flawless. If it is such a real pearl, the price in the pearl market can be said to be very expensive.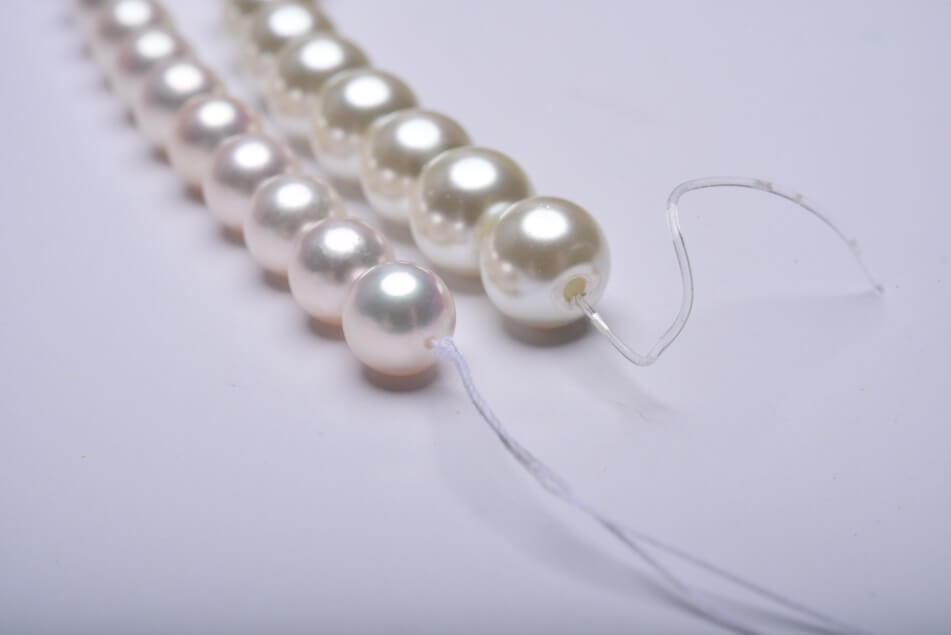 (Akoya pearl strands on the left, Glass pearl strands on the right)
Common pearl necklaces have holes. The holes of real pearls are very small and need to be watched carefully, about 0.8-0.9mm, while the holes of fake pearls will be relatively large, about 2mm, which is very conspicuous. Due to the artificial coating, the hole is also very rough, and a heavy sense of wear can be seen around it.
Nacre Quality
The quality of the nacre is determined by the layered structure of aragonite crystals and the thickness of the nacre. If a cultured pearl has attractive luster and good reflection depth, it is likely to have good nacre quality.
Only real pearls possess nacreous qualities. The surface of the fake pearl is coated. This is the fundamental difference. The coating is just a fake that imitates pearls. It cannot be called nacre, and because of unnatural growth, it is extremely easy to wear.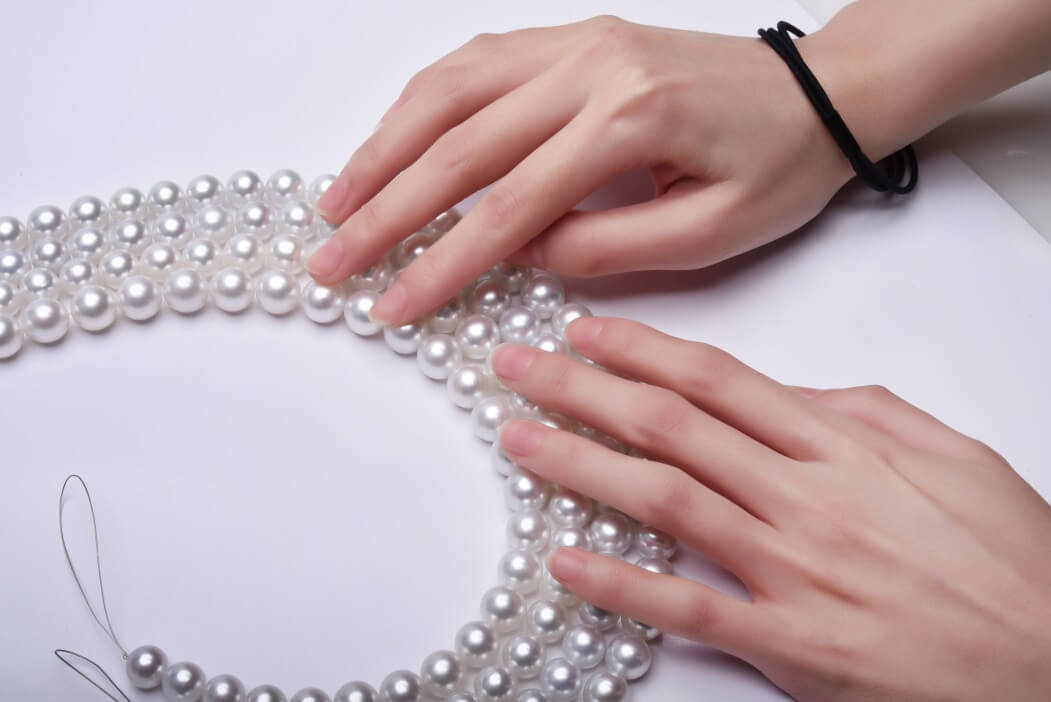 Real pearls will feel cold and comfortable when they touch the surface. This feeling is like walking barefoot on marble. The fake pearl will be the same as room temperature, it will heat up quickly in the hand, and will have a greasy feeling of sweat and coating due to the relationship of the coating.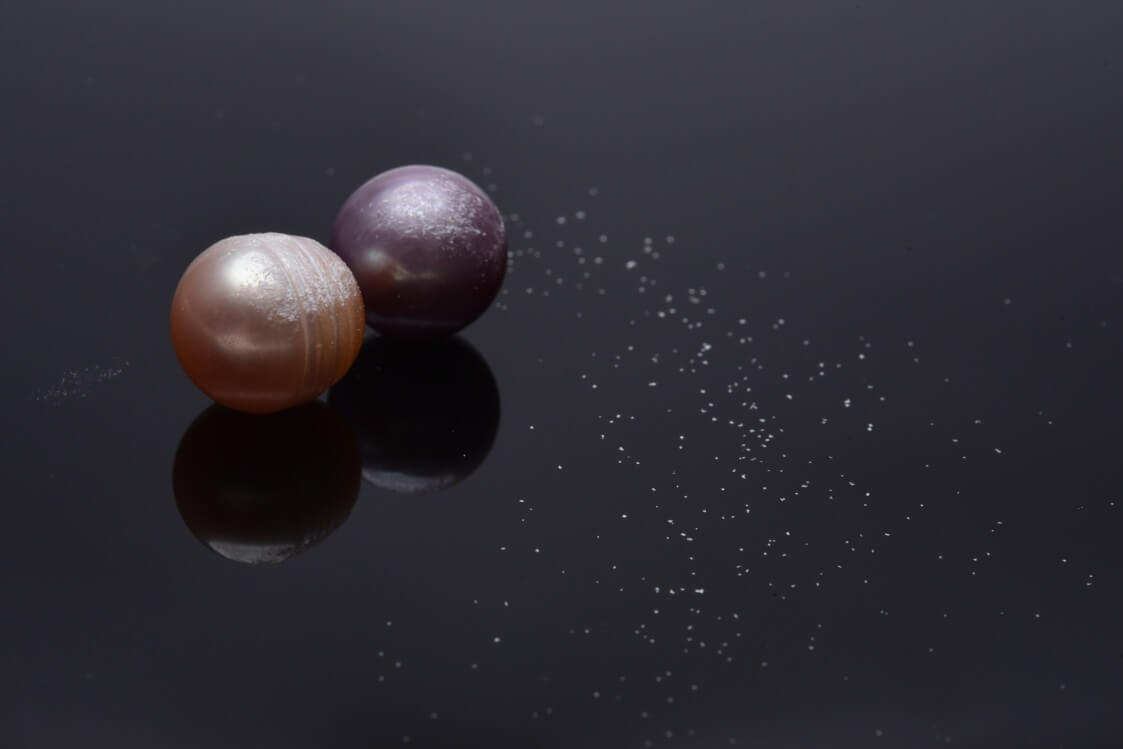 (The powder after rubbing real pearls)
If 2pcs real pearls are rubbed, a small white powder will appear on the surface of the pearl, while the fake pearl will appear very smooth due to the coating, and the friction between the two will appear very smooth. Use a blade or a hard object to wear them, and their skin will also It is easy to reveal the inner core.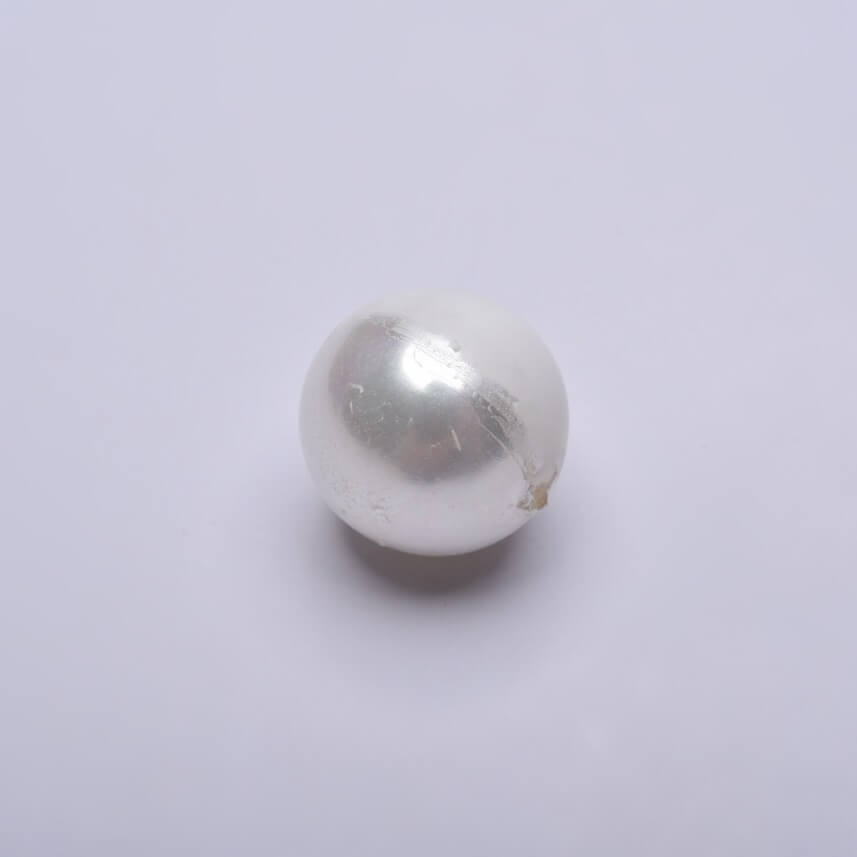 (Shell pearl after the blade cuts the surface)
Matching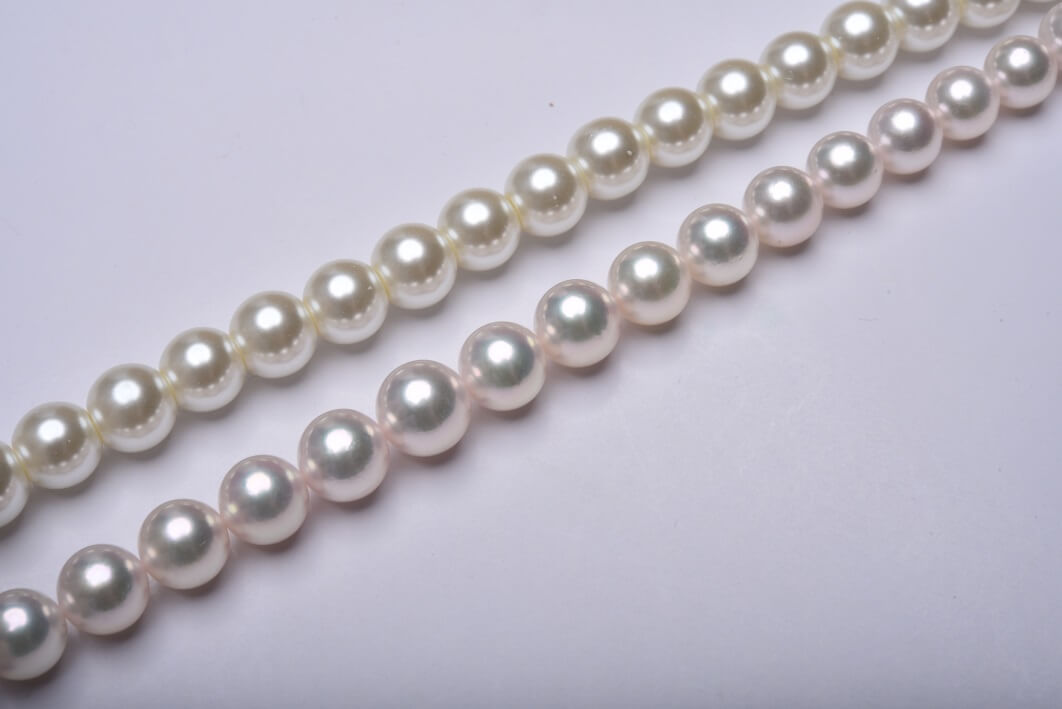 (Glass pearls on the top, real Akoya pearls on the bot)
For common pearl necklaces or strands, there will be some slight differences in the size and luster between the pearls. This is determined by the uniqueness of the pearl itself, and fake pearls can easily do this. If a string of pearl necklaces is too perfect, if not at a sky-high price, you may have to doubt its credibility.
Other
There are some articles that you can often read, but in fact, as a jeweler, we don't recommend you to use this method that will damage the pearl.
Clamp a pearl with your thumb and fingers, gently press it on the occlusal edge of the front teeth, and rub it with the teeth by moving it left and right. Real pearls usually feel the friction of sandpaper due to the tiny flaws in the outer layer of the nacre, while fake pearls are very smooth. However, processed real pearls may be equally smooth.
Some sources may recommend holding pearls in an open flame to determine whether they are fake or not. According to this rumor, fake pearls will burn or melt, while real pearls will be unaffected. The truth is more complicated. While most fake pearls will be damaged by fire, so will some real ones. Somereal pearls are especially vulnerable to flame and can suffer from blemishes, deformed drill holes, and ruined luster after just a few seconds in a flame.In addition, it's worth noting that pearls conduct heat well and can become very hot when heated over an open flame. If you do attempt this test, take all necessary precautions to avoid bad burns.
After reading the above content, we sincerely suggest the following points to you,
In the process of identifying pearls, don't judge based on only 1test result. Here we only provide commonly used methods, authoritative or professional appraisal institutions, such as GIA, Pearl science Laboratory, etc.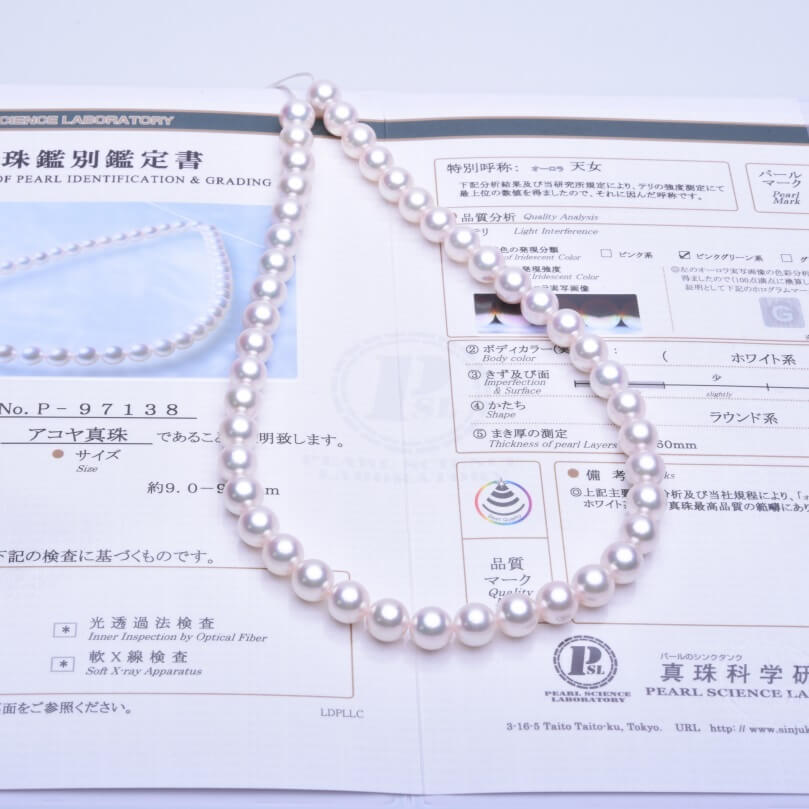 (Akoya pearls strands and Certificate)
Don't be fooled by the price when buying pearls. Pearls have a very large price range because of their quality. As a pearl supplier, we can tell you clearly that even low-market freshwater pearls can easily be sold at retailers for hundreds of dollars. If someone claims to sell real pearls but the price is very low, then please choose carefully after consulting and thinking.
It is strongly recommended that you buy from a certified jeweler or a reliable e-commerce store. Places such as street vendors or pawn shops can be a very risky choice.
If you need advice on buying pearls or pearl jewelry, please consult us.
Eusharon is committed to let everyone like and understand pearls, to help friends like Monica who are in need of buying pearls, and to provide the public with their favorite pearl choices!