Different Pearl Shapes for Different Designs
SHAPE - generally the more perfectly round in shape a pearl is, the more rare and prized it is. However, many pearl connoisseurs enjoy the unique distinctiveness of baroque pearls.
1. Round Pearl Value:
Round pearls are perfectly spherical. Due to the relatively rare and "classic" nature of round pearls, the most popular and valuable round pearls are round pearls.
*Round Pearl Jewelry
Round pearls make for excellent jewelry, especially in pearl stud earrings, rings, bracelets and pendants. Due to the shape, round pearls are often made into elegant and classic designs and are widely used in jewelry design.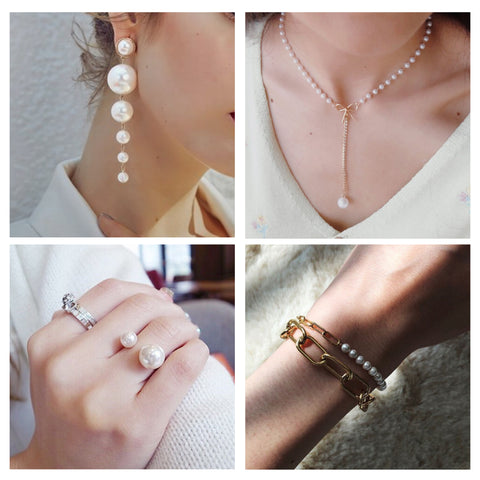 2. Drop Pearl Value:
Though drop pearl are not round, drop-shaped pearl earrings are also considered a more classic gemstone jewelry option. You could pair these two pieces of jewelry together for a traditional look that oozes with sophistication.
*Drop Pearl Jewelry
The shape of the Teardrop Pearl is perfect for earrings and pendants. Below is a stylish and elegant pearl type.Celebrities and members of the royal family often wear tears.
In addition:
Drop-shaped pearl can also be used to make a variety of jewelry. Due to its acceptable price, necklaces made of teardrop pearl strands is also very popular.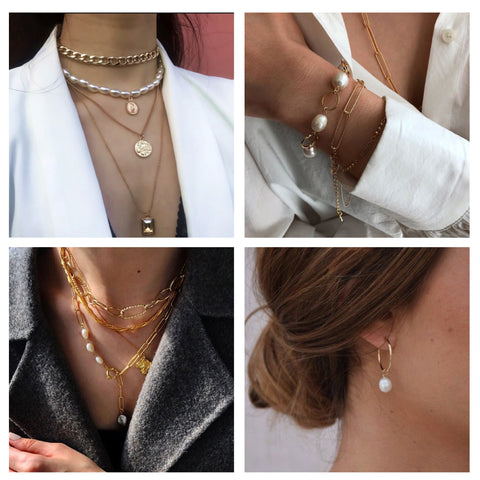 3. Mabe Pearl Value:
Mabe pearl is a special kind of pearl.
Mabe pearls are attractive pearls. On the one hand they look like your average pearl, but a closer look shows their unique dome-like shape. They make for excellent jewelry, especially in pearl stud earrings and pendants.
Another thing that people like about mabe pearls is the comfort of the shape. Fully formed pearls are round in shape and don not always rest against your chest or ears as you'd like. Because of mabe pearls' flat back, mabe pearls sit flush against your skin comfortably.
*Mabe Pearl Jewelry
Mabe pearls make for excellent jewelry, especially in pearl stud earrings, rings, bracelets and pendants. Mabe pearls come in a wide range of jewelry designs and because of their shape, are often made into beautiful designs not possible with other types of pearls.
The custom-designed pendants could be cleverly designed to cradle each mabé pearl securely and to showcase its unique beauty. Diamond could be bezel set atop for an extra touch of sparkle (not that it's needed!).
Mabe pearl pendants feature solitaire settings, and a bezel-set diamond also could add sparkle!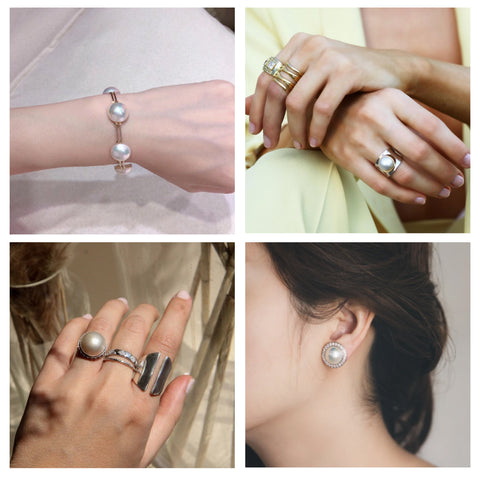 4. Coin Pearl Value:
In general, coin pearls have gorgeous luster because of the wider surfaces.
The highest quality coin pearls with a perfectly round shape, excellent nacre, excellent surface quality are sought after. They are typically bought and sold by specialist dealers.
As for coins that have a thick coating of nacre.Coin pearls have some shape or surface irregularities, such as flame-like tails or small bumps, but some people love the way that these imperfections add to the character of the jewellery. The flat shape lie beautifully and comfortably around the neck.
Because of the flat shape, coin pearls, like mabe pearls, are comfortable and easy to wear. The pearls sit flush against your skin and don not move around as much as round pearls would.
*Coin Pearl Jewelry
Coin pearls can be made into a range of pearl jewelry styles. (Necklace/Pendant/Earring/Ring)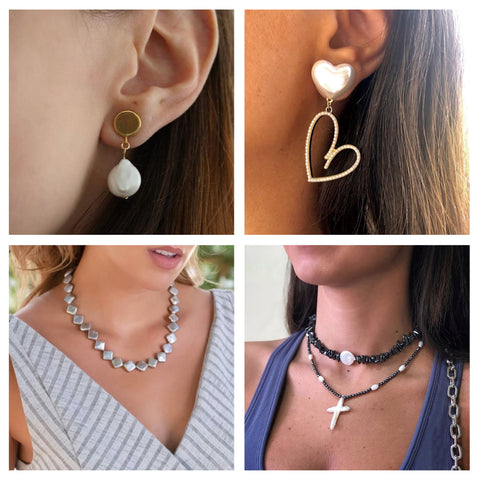 5. Fireball Pearl Value:
Fireball pearls offer some of the most captivating luster of any pearl variety. A diffraction of light across its uneven surface produces the optical effect of iridescence, as if the pearl were a prism separating light into the spectral colors of the rainbow. This creates dramatic flashes of color as the viewing angle or light source shifts. Since no two pearls are identical, the ideas of pearl jewelry are infinite.. The bulbous body and undulating tail make for truly individual pearl earrings, pendants and strands.
Fireball pearls are perfect for someone wanting to make a statement. It is a subversion of the traditional and classic look of pearls.Pearls look elegant and tasteful yet different.
The design of the Fireball pearl discards the idea that pearls have to be perfect
6. Semi-Baroque Pearl Value:
Semi-Baroque pearls are irregular pearls breaking the traditional view that pearls have to be perfectly round and perfectly smooth. Baroque pearls are for the modern woman who wants to make a statement, and baroque pearls perfect for anyone who loves the quirky and unique.
Semi-Baroque pearls are the absolute opposite of traditional pearls because each one has its own shape and size, making Semi-Baroque pearls extremely easy to use to create gorgeous pieces meant to fit every style.
*Semi-Baroque Pearl Jewelry
If you pursue a special jewelry style, gorgeously lustrous baroque pearls are total show stoppers! Every single one of these fireball pearls has a unique personality all on their own. The individual character of these pearls allows for dramatic flashes of colour as the pearl catches the light.
Making jewelry with baroque pearls can express individuality. The bulbous body and undulating tail make for truly individual pearl earrings, pendants and strands.
7. Keshi Pearl Value:
Kesi pearls have a variety of free shapes due to the growth, including round, oval, flat, elongated and strange shapes.
The unique shape makes Keshi pearls stand out. Each keshi pearl is distinctive, which makes them a great choice for non-standard modern pearl jewelry.
The luster and overtones of keshi pearls are further accentuated by the many dents and bumps on the surface of the pearl.
Keshi pearls are also known for the high luster and beautiful overtones. Keshi pearls are made of solid nacre, this results in more light performance as light is able to travel into the many layers of nacre and is reflected back out at the viewer.
*Keshi Pearl Jewelry
Keshi pearls allow designers to create unique and beautiful jewelry styles,  incorporating the free shape of the pearl into the design.
As we mentioned above, the shape of the pearl inspires designers to create fashion and different jewelry.Casey pearls work with all styles of jewelry, from casual Bohemian to chic.